FAE is excited to have five mixed media works on paper from the estate of one of Texas' most interesting polymaths, Dr. Jean Andrews, The Pepper Lady.  Jean Andrews (1923-2010), was enamored with the natural world, and when she saw something in nature that interested her, she would generally become expert enough in the field to write a scholarly monograph on the subject. And, in addition to researching and writing the book, she would often create her own expertly rendered paintings, graphite and gouache drawings, and/or photographs to illustrate them.
Although she authored books on The Texas Bluebonnet (UT Press, 1986), Seashells of the Texas Coast (UT Press, 1972), and American Wildflower Florilegium (University of North Texas [UNT] Press, 1992), she was best known for her books on Peppers. Her most successful being, Peppers, The Domesticated Capsicums, published by University of Texas (UT) Press in 1984. It was considered "THE" book on peppers because, in addition to carefully illustrating each pepper plant so it showed the life cycle of each type of pepper from flower bud to mature pepper, it included scientific, cultural, and historical information. The book was so popular, the publisher produced two subsequent editions. She became known by pepper aficionados as "The Pepper Lady".
In the Summer of 2010, in issue 86 of the American Botanical Councils publication, HerbalGram, The Journal of the American Botanical Council, Kelly E. Lindner wrote a scholarly memorial to Dr. Jean Andrews, The Pepper Lady titled: Jean Andrews (1923-2010)
The following two illustrations were drawn for Dr. Andrew's best known book:  Peppers, The Domesticated Capsicums
UT Press, Austin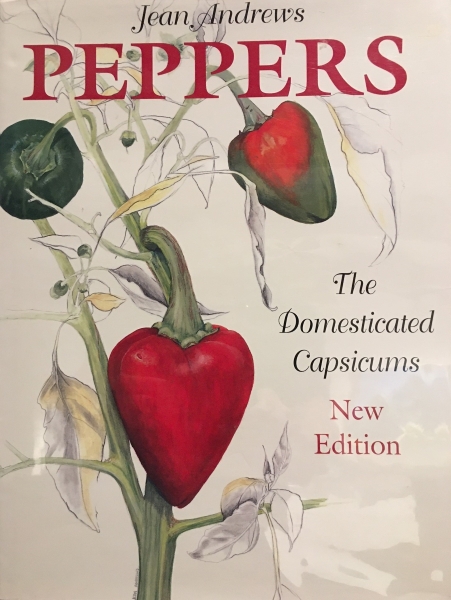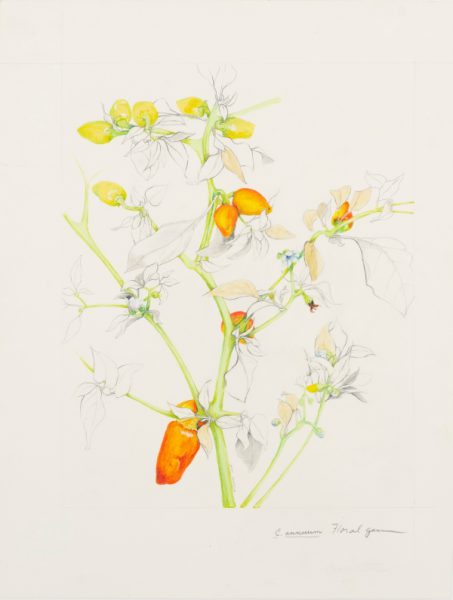 Plate 12  Floral Gem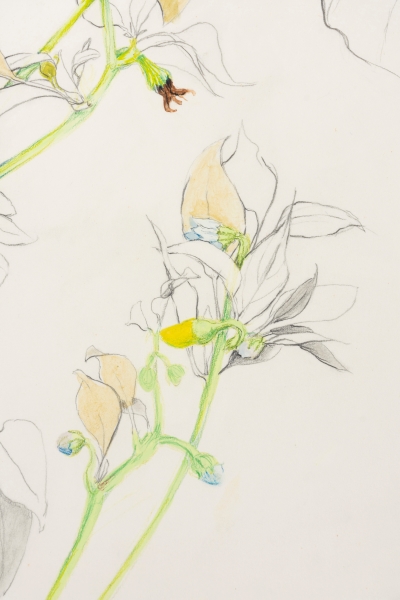 The images above and below are details of Floral Gem.  They show Dr. Andrews intention to show the development of the pepper from flower bud to fully developed pepper in a single illustration.   All of the illustrations she made for this book convey this concept.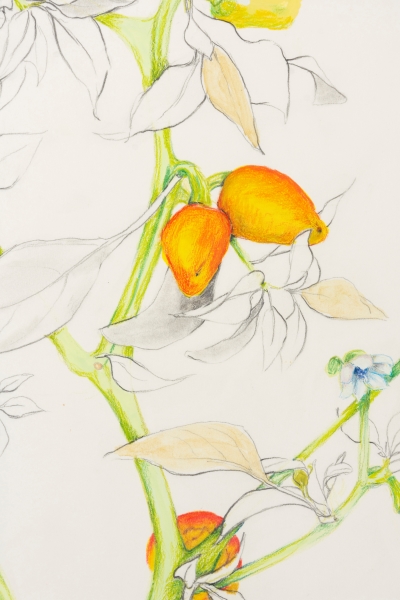 Below is the second illustration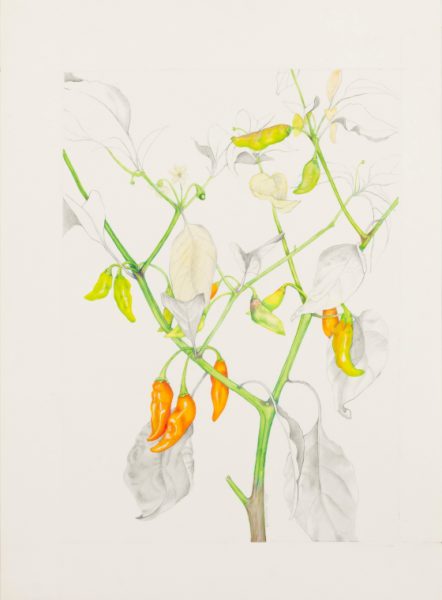 Plate 29  Datil
A detail of Plate 29  Datil
_________________________________________
The next three illustrations are from the book:  American Wildflower Florilegium
Published by UNT Press, Denton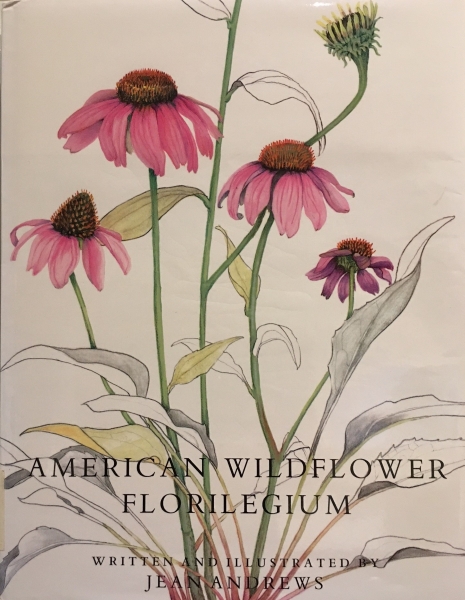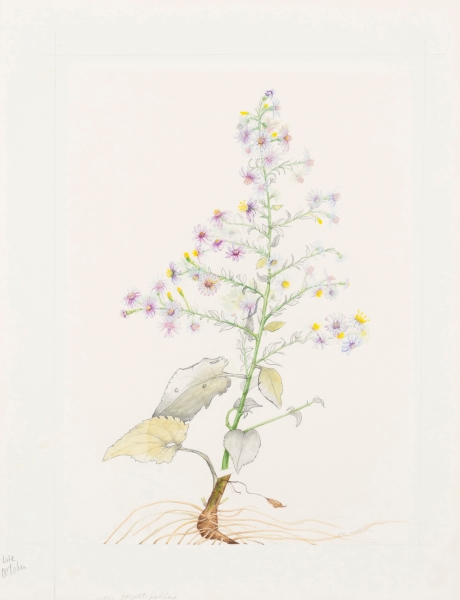 Broadleaf Aster  Page 23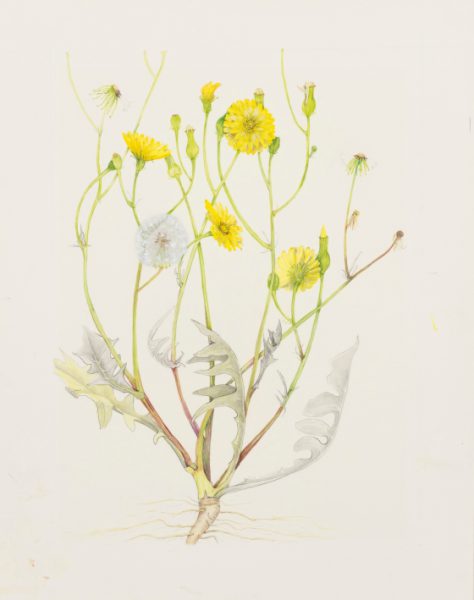 False Dandelion   Page 105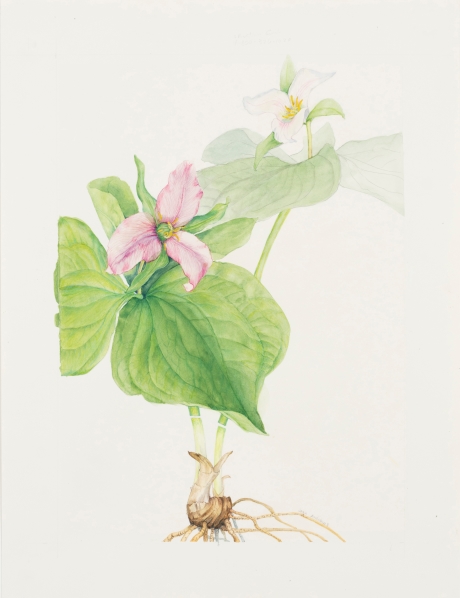 Wake Robin Coast Trillium   Page 119
Through July of 2022, these beautiful illustrations by Dr. Andrews will be available to view at Valley House Gallery & Sculpture Garden.
*****
Learn more about the artists whose work you will find on FAE:
To see all available FAE Collector Blog Posts, jump to the Collector Blog Table of Contents.
To see all available FAE Design Blog Posts,  jump to the Design Blog Table of Contents.
Sign up with FAE to receive our newsletter, and never miss a new blog post or update! 
Browse fine artworks available to purchase on FAE.  Follow us on Facebook, Instagram, or Twitter to stay updated about FAE and new blog posts.
For comments about this blog or suggestions for a future post, contact Kevin at [email protected].
*****