In 1969, at the age of 25, the exceptionally talented Visionary painter Valton Ray Tyler painted these three extraordinary and extremely rare to market oil paintings that are now available on FAE.  At the time, although his living conditions had stabilized, he was suffering radical mood swings caused by his life-long fight with Manic Depression, or what is now known as Bipolar Disorder.  All three are different in temperament and foreshadow the direction his work would take over the next 48 years.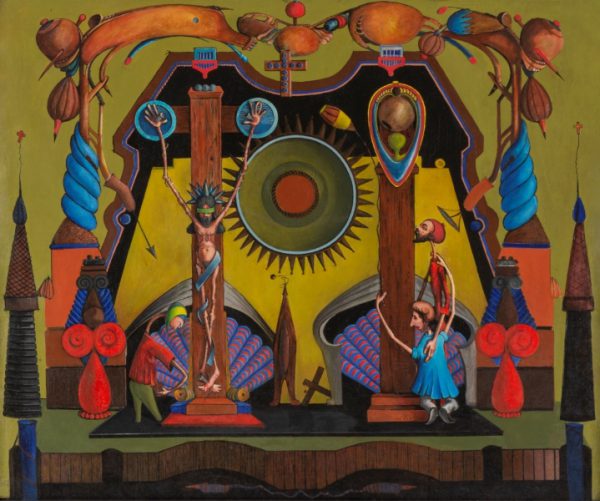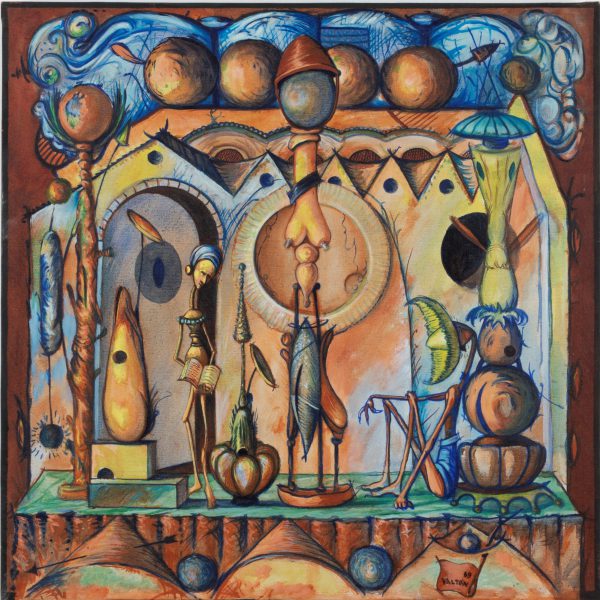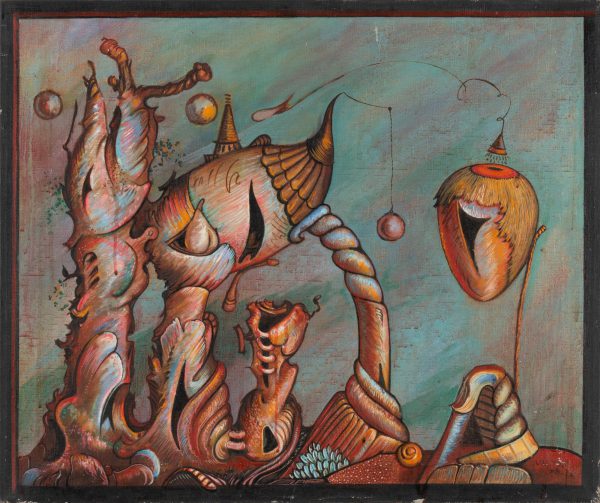 In the beginning of 1970, Valton's life would take a radical swing towards the Manic.  His brother was desperate to try to help Valton find his way and to determine if he really had talent, or if his artwork was just self-devised therapy.  He brought Valton and a portfolio of his drawings to Dallas art dealer, Donald Vogel.  Vogel was impressed enough with Valton's talent and creativity that he arranged for Valton to use the printmaking department at Southern Methodist University under the watchful eye of Larry Schoelder, who ran the department.  To help keep Valton supplied, Vogel agreed to purchase all of Valton's plates and paper as long as he wanted to produce prints.  Valton became sort of an artist in residence without portfolio at SMU and worked when classes were not in session, often well into the  night.  During this intense period of productivity, by October of 1971, Valton had started editions on over 50 different intaglio prints.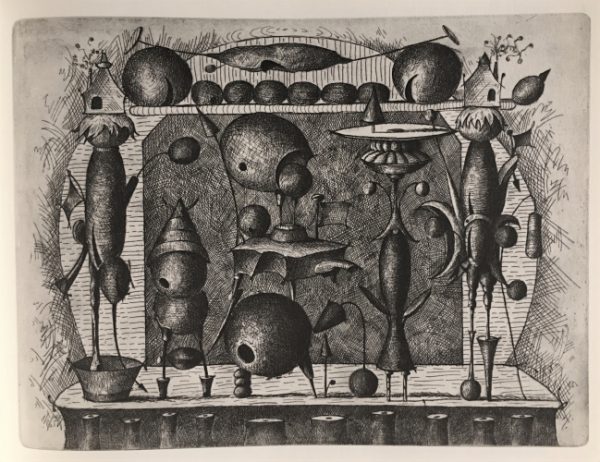 Valton used themes and working methods in these three earlier paintings that he modified to use in making his black and white intaglio prints.  He used a similar cross hatching technique to give the forms he created volume and, when a figure appeared in his prints, he often elongated their limbs in a sort of hyper-Mannerist style.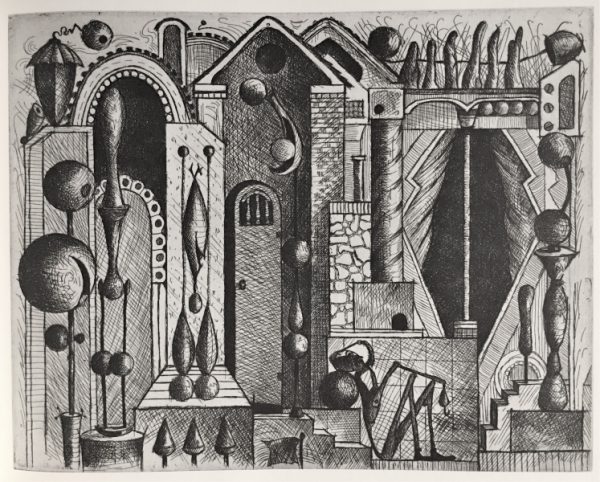 After Valton's intensely focused period of printmaking, he started working in oil on stretched canvas.  With these works, unlike his earlier paintings and prints where three-dimensional form was derived from crosshatched strokes,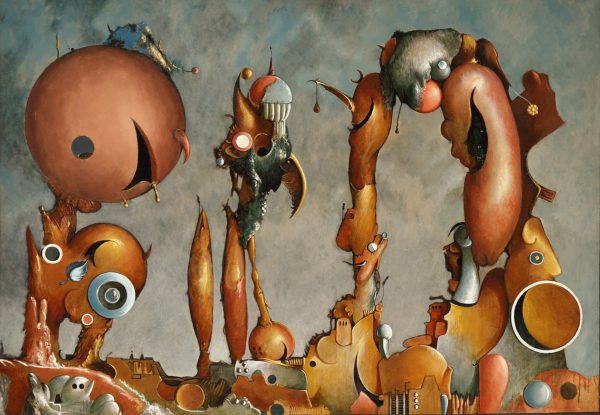 Valton started to render form by carefully blended smooth shading.  With practice, Valton was able to subtly render a graduated background shade that would work its way across large canvases.  He also started to place his quasi-plant and machine-like organic forms into landscape settings.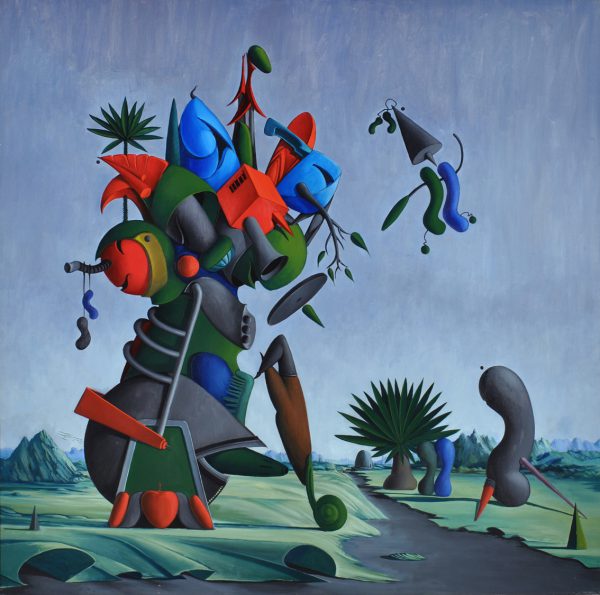 Before Valton passed away, he was honored with a one-person show of his prints and paintings at the Amon Carter Museum of American Art in Fort Worth, Texas.  Below is the last large painting  Valton painted before his death.  It was donated to the Amon Carter by one of his family members and is currently hanging in a transitional stairwell.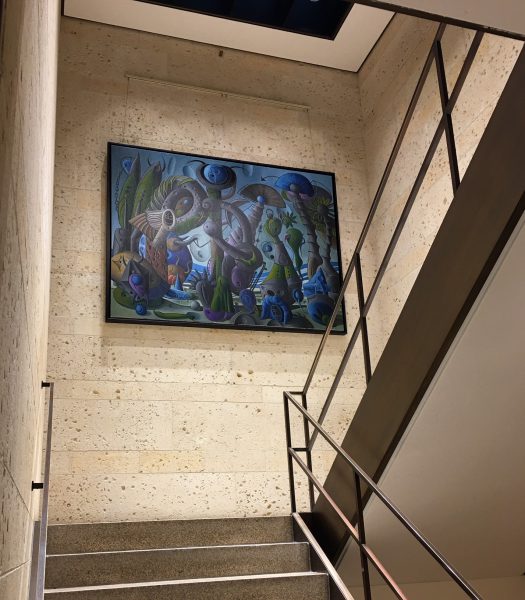 *****
See all available works by Valton Tyler.
To see all available FAE Collector Blog Posts, jump to the Collector Blog Table of Contents.
To see all available FAE Design Blog Posts,  jump to the Design Blog Table of Contents.
Sign up with FAE to receive our newsletter, and never miss a new blog post or update! 
Browse fine artworks available to purchase on FAE.  Follow us on Facebook, Instagram, or Twitter to stay updated about FAE and new blog posts.
For comments about this blog or suggestions for a future post, contact Kevin at [email protected].