Otis Huband is a consummate artist in every sense of the word.  When engaged in conversation, he is very sociable and will talk about art in most any form, however, he is far more interested in producing art than talking about it. Otis' mother vividly remembered when her son returned from his first day of kindergarten and announced that he was going to be an artist. Otis said she thought it was very cute at the time, but, when he had not changed his mind as a teenager, she worried that Otis would have a hard time making a living.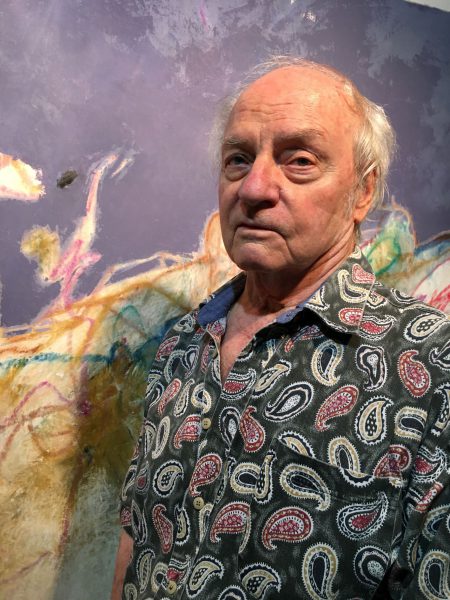 Now at 87 years of age, he has still not changed his mind, nor has he lost his Virginia accent despite spending most of his life in Texas. Otis confirms his decision, To this day, I have never pursued any other course in my life. Nor was I ever tempted to do so. Nothing to me was ever as interesting or nebulous as art.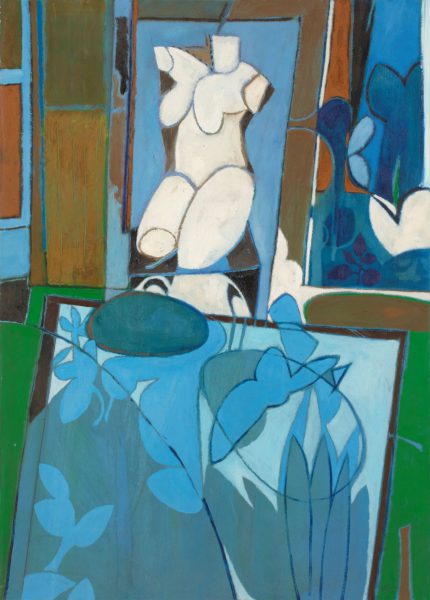 EDUCATION & EDUCATOR:
Otis transferred from the California College of Arts & Crafts, located in Oakland, to the Virginia Commonwealth University in Richmond in 1958 to finish his requirements for a BFA. During this time, he became proficient in all the traditional fine arts media. He loved being a student and said of the experience, I know that I learned more from my fellow students than from our well-intentioned and likable instructors. I would say that being in an environment five days a week with a congenial and, for the most part, serious group of seekers made a profound impression on me.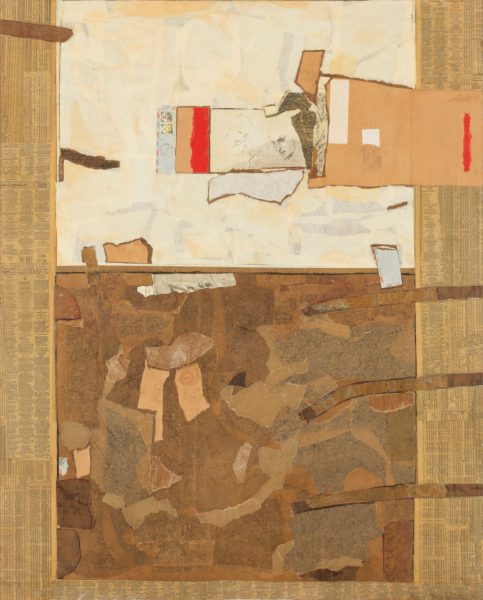 In 1961, Otis received his MFA, also from Virginia Commonwealth University, and shortly thereafter traveled with his new bride, Anne, to Italy where he studied at the Accademia di Belle Arti, Perugia for a year. When funds ran low, they returned to the US, settling in Houston, Texas, where Anne was offered a job teaching math. In 1967, Otis became an Art Instructor at the Houston Museum School of Fine Arts (now Glassell School). He left the Museum School in 1971 determined to focus on his own work.
During the 70's I wanted to find a unique voice uninfluenced by current styles or fashions. Something based on universal aesthetic principals that apply to all painting, both ancient and contemporary. 
Otis retired from teaching in 1982 after working as an art instructor at the Art League of Houston for 11 years.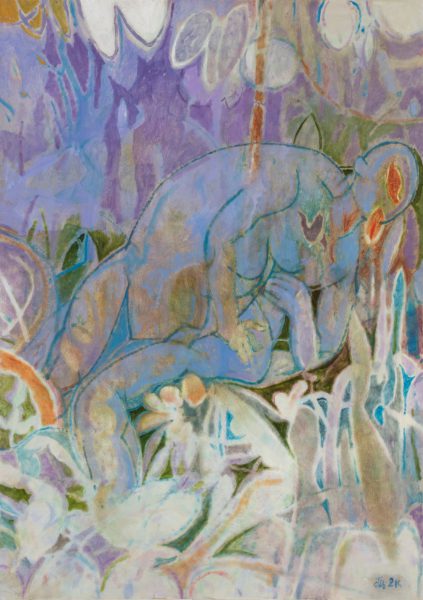 Six years before Otis retired from teaching, he had become so frustrated with the commercial side of the art world, he stopped making any effort to show his work in art galleries. Instead, he opted to focus on painting and sold his work privately.
During this period, he was invited to have solo shows in non-commercial settings in Houston such as the University of Houston and the Health Science Center in 1985, the Goethe Institute in 1889, and the Museum of Printing History in 1993. He did not show his work again in a commercial gallery until art dealer and collector William Reaves offered him a retrospective at his new Houston gallery in 2010 when Otis was in his late 70's. Valley House Gallery in Dallas began representing Otis in 2014 and produced a monograph on his work in 2019.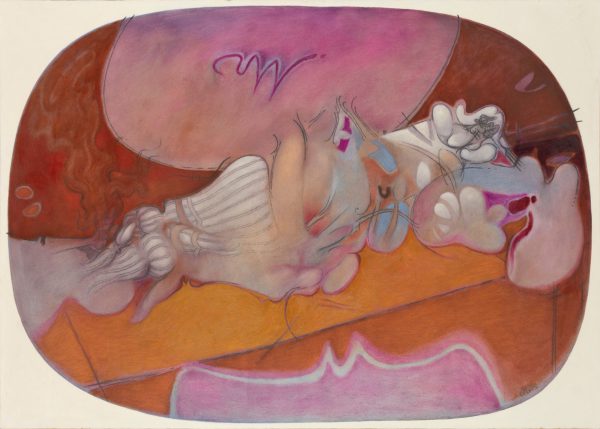 STUDIO PRACTICE:
Otis' studio practice begins each morning by creating a series of small collages, before he starts to paint. The act of assembling the collages allows him to …make the transition from cognitive thinking to perceptual impulses, in other words, to bypass thinking in favor of impulsive feeling. The collages that result, made from any two- dimensional material that has been touched or altered by human interaction, are not studies for paintings. Otis states the collages, establish an emotional relationship to the materiality of being, seeing, and feeling, and they adjust his mindset for approaching the canvas that awaits him.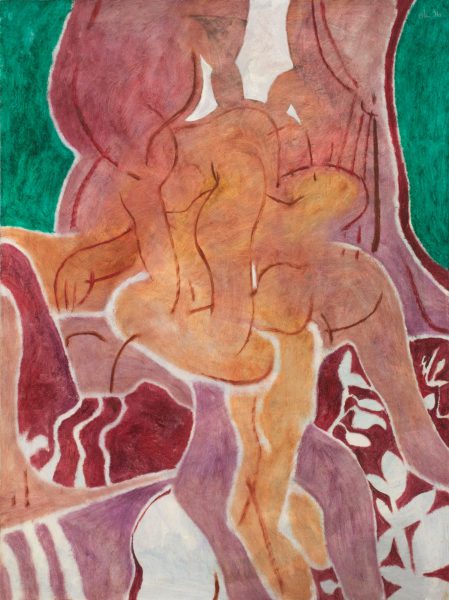 Although his early work was painted with brushes, his later works are composed primarily with oil stick. He loves the freedom oil stick provides as it allows continuous lines to be created without having to interrupt an inspired passage by reloading a brush.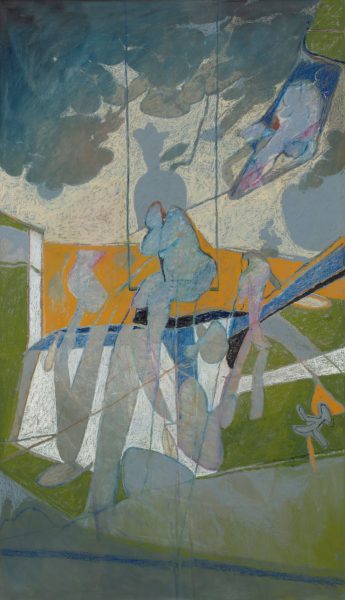 For Otis, the hardest thing is placing the first mark on a pure white canvas. Once that first gestural line or shape is established, sometimes without even looking at the canvas as it is applied, he can then explore all the possibilities it suggests. As the painting evolves, each mark informs the next, figures, or parts of figures often emerge to become elements of an abstracted whole.
For me, painting is like an archaeological excavation.  Unexpected treasures are sometimes found, truths revealed, and aesthetic vistas open up exciting possibilities.  Banalities disappear.  One almost becomes a conduit for aesthetic states which are not always under the complete control of the artist.  That is the mystery and the fascination of art.  It is mystical!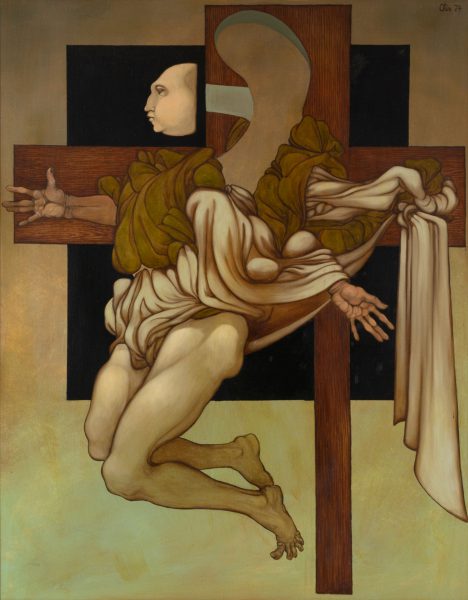 In Otis' earlier work, the figure would often be the subject, rendered in a representational three-dimensional style, whereas the abstracted figuration that emerges in his later work is distinguished by two-dimensional shapes and patterns that play off the other elements in his paintings.
My paintings are flat and not illusionistic. An honest celebration of a flat surface which is characteristic of most modern art which celebrates paint itself and the flat surface to which it adheres.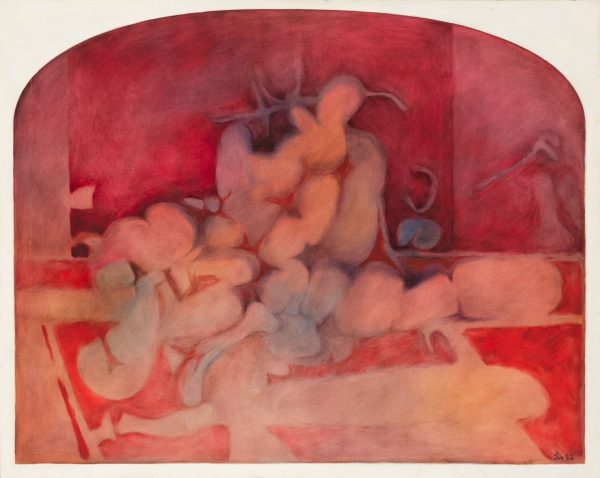 THEN & NOW:
In 2021, Otis will have been a professional artist for 60 years. During his career, he has participated in over 60 group, and 30 one-person exhibitions. In addition to showing in galleries across the country, Otis has had one-person exhibitions at the Lynchburg Fine Arts Center in Virginia, the Oak Ridge Art Center in Tennessee, Wisconsin State College, the University of Houston, and Palazzo Ferretti in Cortona, Italy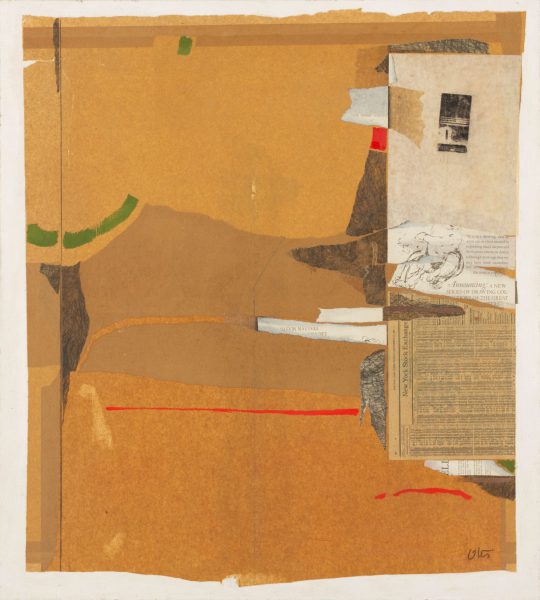 When asked what makes a painting successful, he replied, The major requirement of a successful painting to me is that it be saturated with the vulnerabilities and frailties of humanity. The exact opposite of "cool" indifference. I want my fingerprints all over it. It is my testimony to passing through this world in this time and being involved with it in a deeply personal way.
I wanted to return to the pure art impulse that I experienced as a child in kindergarten. The honest independence of a child! I still work towards this goal.
*****
See all Otis Huband works currently available on FAE.
To see all available FAE Collector Blog Posts, jump to the Collector Blog Table of Contents.
To see all available FAE Design Blog Posts,  jump to the Design Blog Table of Contents.
Sign up with FAE to receive our newsletter, and never miss a new blog post or update! 
Browse fine artworks available to purchase on FAE.  Follow us on Facebook, Instagram, or Twitter to stay updated about FAE and new blog posts.
For comments about this blog or suggestions for a future post, contact Kevin at [email protected].