AN INTERVIEW WITH LIFELONG COLLECTOR DOROTHY GARLAND
FineArtEstates.com is pleased to present artworks from the Dorothy and Mat Garland Collection. While Moving into a smaller space to enjoy retirement, Mrs. Garland realized she had reached the juncture faced by many a Collector: She now needed to de-access works from her collection.  To accompany the 2015 exhibit of works from Garland's collection at Valley House Gallery, Garland wrote the essay for the catalogue "A Collector's Story of Collecting Early Texas Art," in which she gave an account of her lifetime of art collecting and shared some lessons she learned along the way. With some of the remaining pieces now listed on FAE, Garland graciously expounded on her perspective on collecting in an interview.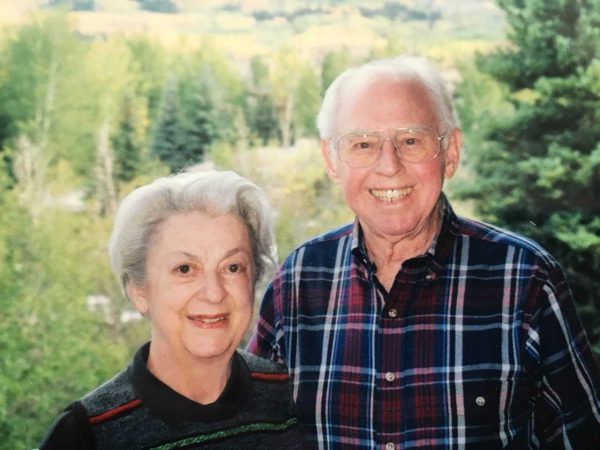 The Early Texas Art Collector's Organization
Dorothy Garland has been a member of the Dallas based Texas Art Collector's Organization (TACO), since 1990 and most recently a board member. She described the sense of community that is fostered by members' shared love of Early Texas Art. The board meets twice a year to plan their Spring and Fall schedule. They arrange viewings of Early Texas Art in a fellow collectors' home, museums, galleries, or artists' studios.
As she described the organization, she remarked on the kind of kinship that occurs between members. During one TACO visit to a collector's home, the man showed her where he had displayed two paintings purchased from her collection. He kindly offered that she could come visit the paintings whenever she wanted. This is the bond that can form over a shared love for art.
That enthusiasm and open exchange of ideas between TACO members is not dissimilar to the setting which fostered the very artistic movement they study. She described the artist meetups that would take place in a Dallas couple's home during the Great Depression. "They hosted weekly meetups for artists to enjoy a homecooked meal and engage in discourse." She said Speakers such as Herbert Marcus (of Nieman Marcus) and O'Neil Ford were invited, and any information that could help these artists was shared. With no jobs to be had, any money earned from selling an artwork could go a long way. "They were able to pursue what they loved, and although they may have been competitors they gathered as friends in their shared passion."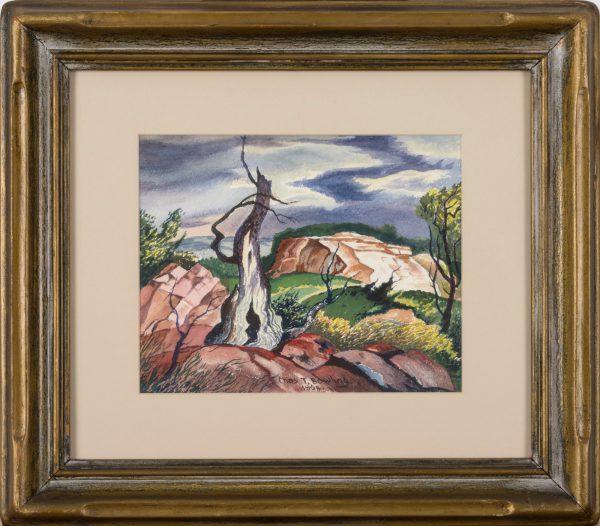 One of these artists was Jerry Bywaters, who went on to become the Director of the Dallas Museum of Art. The watercolor "White Cliffs," was created by a friend of Bywaters from the same circle, Charles T. Bowling. Created in 1964, this piece beautifully exemplifies Bowling's preferred palette of grey, ochre, rust, and cool blue-green. It was likely inspired by one of his lithographs from the 1930s. Twenty-six of Bowling's lithographs were donated by his family to the Jerry Bywaters Collection of Art of the Southwest at Southern Methodist University. An exhibition of his work, The Lithographs of Charles T. Bowling (1891–1985), was organized in 1991 at the Meadows Museum in Dallas.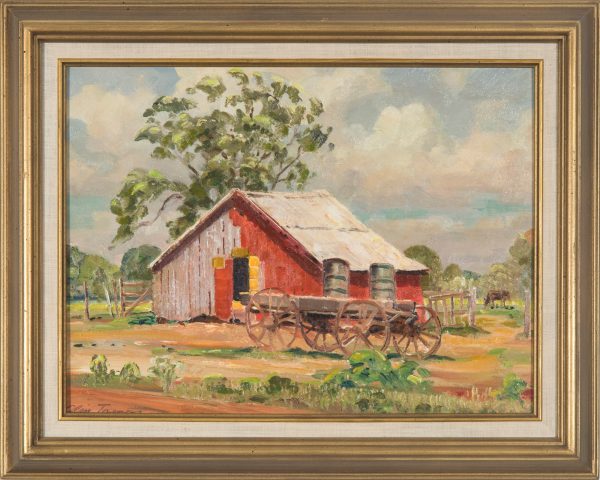 Bowling also studied with Olin Herman Travis at the Dallas Art Institute, who frequently lead painting trips to the Ozarks in the 1920s. The plein air painting "Red Barn with Wagon" is a rare example of a rural Texas subject, a departure from the Ozarks landscapes that Travis tended toward.
Art is Personal
Perhaps the most important lesson expressed in her essay and in her interview, is finding out as much as possible about the artists. Her belief is that "personal details can only enhance the enjoyment of an artwork."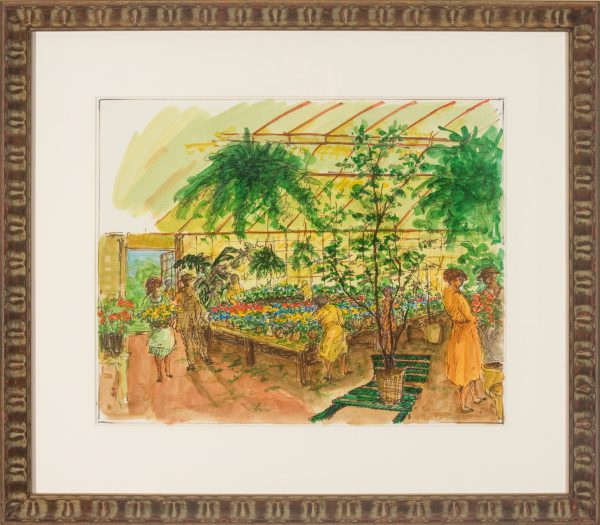 Whenever she acquires a new artwork, Garland makes a practice of contacting the artist if possible, or their remaining family. She explained that to learn more about the artist's life, she will ask the spouse or children about their experience of living with an artist. She recalled a visit with the daughter of Texas artist Everett Spruce, who shared an intimate memory of her father's habits in the studio. She said that he would always paint with classical music playing. "When he was working in the studio with the door closed and the music playing, the children knew that they were not to disturb him under any circumstance." To Garland, these kinds of stories about the artist as a spouse or parent make the painting more personal and valuable.
It was during a visit to Paris with her husband Mat, that Garland said she first got the idea to visit artists in their homes. She recalled visiting Sacre-Coeur and purchasing a painting from one of the artists there. The artist offered to pack up the piece for shipment, and so they followed him to his apartment. She found it fascinating to see where he worked and lived, and now advises any collector to make a home visit if ever possible.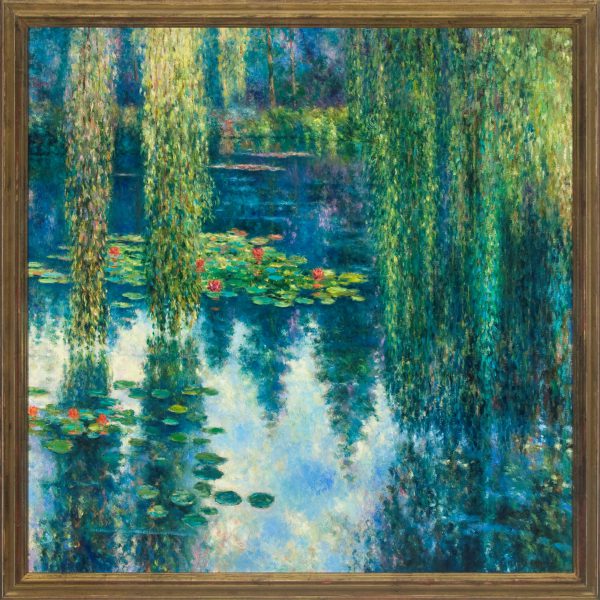 Another painting acquired in France, "Waterlilies, Giverny," involves a personal interaction with the artist Claude Cambour. Garland and her husband encountered the artist while exploring Giverny, the gardens made immortalized by Cambour's favorite painter Monet. Cambour started giving workshops in Giverny in 1985, and at the time of this encounter was preparing for an exhibition of his paintings in California. Needing American dollars to take with him to California, the Garlands worked out a cash deal for the painting. It hung over their fireplace for many years. To Garland, this kind of participation in an artist's career enhances her enjoyment of the artwork.
Decisions of a Collector
The Garlands' entry into art collecting started out of necessity, as she described their home with "a large wall that needed a large painting to fill it."  She explained that there really is no guiding theme to the collection, simply artworks that she and her husband liked.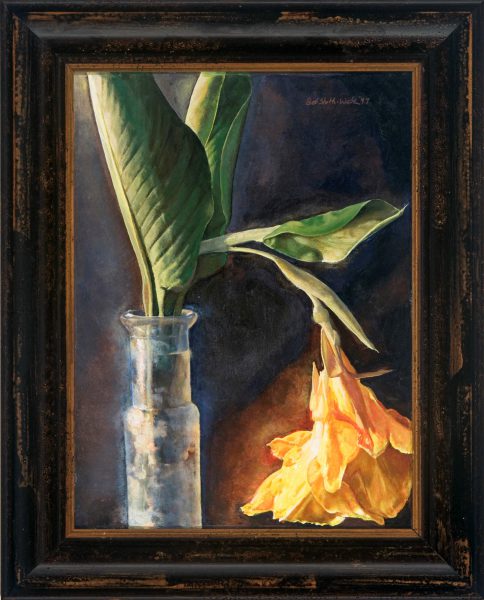 The decision to purchase an artwork is fairly simple, by Garland's metric. She has found that like herself, many collectors' deciding factor in acquiring an artwork is purely that they like it and can afford it. Once the purchase has been made, she advises, "forget what you paid and just enjoy the artwork." She explained that while an investment in the stock market could leave you with nothing, a piece of art that you love will always provide enjoyment. "There will be a market if the time comes to sell the piece," she remarked, "and FAE is way to make that possible."
Garland gave her thoughts on the scarcity of Early Texas Art in the current art market, noting that most of it is currently in the hands of collectors. The decision to part with some pieces is a bittersweet one, but she looks forward to the next chapter of these artworks' stories in the homes of other collectors at heart. Garland hopes that her story will inspire new collectors to continue in this shared love of art.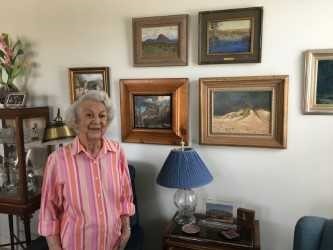 *****
See all available works from the Dorothy & Mat Garland Collection.
To see all available FAE Collector Blog Posts, jump to the Collector Blog Table of Contents.
To see all available FAE Design Blog Posts,  jump to the Design Blog Table of Contents.
Sign up with FAE to receive our newsletter, and never miss a new blog post or update! 
Browse fine artworks available to purchase on FAE.  Follow us on Facebook, Instagram, or Twitter to stay updated about FAE and new blog posts.
For comments about this blog or suggestions for a future post, contact Kevin at kvogel@fineartestates.com.